EXPLORE LAKE BUNYONYI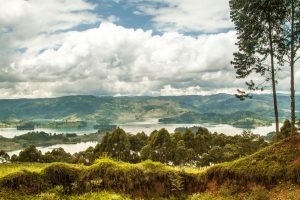 Lake Bunyonyi is East Africa's deepest lake found in Southwestern Uganda with a variety of natural wonders that define it as "A Natural Wonder of the World". Lake Bunyonyi bares the most beautiful spectacular view with large water bodies and evergreen vegetation cover near the border of Rwanda as Uganda's top natural treasure. The lake is framed by lush, green terraced hills that reach heights of 2200m-2478m above sea level and it has also got 29 scattered islands across the water that appear in different shapes that make it magical. The lake derived its name from a local word Bunyonyi meaning a place of many little birds and it's located at 1962m above sea level, it's about 25km long and 7km wide and its depth is expected to vary between 44m that makes it the second deepest lake in Africa and is one among the few lakes in the region rumored to be free from Bilharzia and is safe for swimming.
And geographically, Lake Bunyonyi is a body of water 7 kilometers west from Kabale town, Southwestern Uganda covering an area of 61 square kilometers with its 29 islands concentrated in the Central part with few settlements but mainly used for tourism facilities and for primary and secondary study tours. The lake has temperatures rising to 25 degrees Celsius. As any other lake where fishing is always done, fish was introduced to this lake in the later years but it only became profitable in 1930s. Unfortunately in 1960s, fish in this lake died massively as a result of violent shallow mixing that anticipated to be caused by wind where people mostly caught clarias species whereby the lakes depth and stratification makes it difficult for the breeding of common Ugandan species like the Nile perch and Tilapias however about thirty thousand Tilapia and clarias fish species were introduced to lake in 2002, also present in the lake are mud fish, Cray fish and mirrowcarp fish and plenty of their predators like otters.
The lake is surround by certain towns especially on its shores like Kyevu and Muko and among its 29 islands there is Punishment Island and Bushara Island mainly known for its popular location for watersports, the surrounding terraced hillsides, popular for both domestic and foreign tourist and a wide range of tourist accommodations. A number of tourists who undertake their gorilla trekking safaris to Uganda or after their Rwanda gorilla experience, they always come to rest and relax to the beautiful lake Bunyonyi as they enjoy the best scenery in the whole world as they involve themselves in various activities such as cultural and community as well as bird watching and canoe rides among others. The lake is also called the place of five islands where each island has history attached. The islands include: Bushara island, Kyahugye Island, Akampene Island, Bwama island, Njuyeera (sharp's) island and Bucuranuka (Upside down) island among other islands. Then Lake Bunyonyi's main Centre is Bufuka village that is occupied two tribes the Batwa and Bakiga people.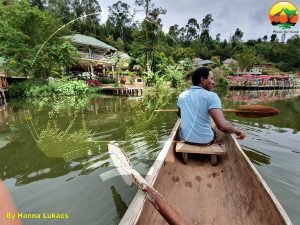 Most visitors who organize their safaris to Lake Bunyonyi generally enjoy and experience a breathtaking nature of the lake that is a Bilharzia free through numerous activities which include;
Swimming: Swimming in Lake Bunyonyi is one of the most enjoyed activities since the lake is Bilharzia free and there are also no crocodiles and hippos which makes best for swimmers to enjoy and have their best time in water.
Bird watching: Bunyonyi meaning a place with little birds just as its name suggests, the lake is a home of over 200 bird species and for bird lovers , this is a great place for bird excursion where you will have best sightings of birds like grey crowned cranes, red –chested sunbirds and many flycatchers.
Boat ride: The Lake boosts 29 islands but of those punishment or Akampene island standards out the most with its amazing history. Early in 1940s, getting pregnant before marriage culturally was a taboo thing. Unfortunately, girls who did fall pregnant before marriage would be canoed to this small island where they would either starve to death or die while trying to swim ashore.
Explore the surrounding villages and the landscapes: While in Lake Bunyonyi, you can also take a hike on one of the surrounding hills and rewarded with spectacular views of the landscapes, visit local schools and interact with school children or also try digging with the local women in one of the many gardens in terraced hills a perfect opportunity to learn more about people.
Visit to the traditional healer: Only 20 minutes boat cruise will land you at Sam Mulisa's hut a traditional healer where you maximally spend two hours with him and learn about traditional medicine practices and more about how he has turned his home into a traditional clinic.
Visit to the local market at Rutindo: Always when in this market, there are interesting interactions with the locals that happens on Fridays and Mondays weekly at Rutindo landing site. Among other numerous interesting activities in Lake Bunyonyi to list but a few.
How to get to Lake Bunyonyi
Lake Bunyonyi is a neighborhood of Kabale town in South Western Uganda. On road, it is 6 hours from Kampala for about 410kmto Kale town and then 8km marrum from Kabale to the lake Bunyonyi still on your way to Bwindi forest or Mgahinga gorilla home Kisoro district.
Accommodations in Lake Bunyonyi
 Luxury
Bird nest @ Lake Bunyonyi Resort
Sharp island gorilla lodge
Mid-range
Budget
Heras country Resort
Bunyonyi overland Resort