Solo Travel to Uganda
What You Need to Know,
From outside East Africa, Uganda can be accessed by either road or Air and mostly by Air to Entebbe Airport and from Outside Africa and other parts of the world, air transport is the best. Water transport can also be used to travel in and around our destinations especially the ferry crossing from the Southern part of Murchison Falls National Park to the Northern part of Murchison Falls National Park. There are Launch cruises to the bottom of the falls in Murchison Falls National Park and along the Kazinga channel in Queen Elizabeth National Park. Also, Ssese islands are easily accessed by water from either Nakiwogo or Bukakata, some business people use the ferry to travel to Kisumu in Kenya and Mwanza in Tanzania mwanzo tours uganda.
Getting around in Uganda
One way to travel to Uganda independently is by hiring your own car. Hiring a 4×4 is highly recommended, because most roads are unpaved and are often extremely bumpy and potholed, and most of the roads in the national parks are only suitable for 4x4s. However, driving on rough Ugandan roads is not for the feint hearted, and if you don't have much experience driving in Africa it might be best to think about hiring a driver for your trip.
If you don't hire a car, your options for getting around cities are shared taxi cars known as(uber) and boda boda motorcycles (but note that both uber and boda bodas have high accident rates). The safest option is to take private taxis (the taxi-ride app Uber operates in Kampala).
General Advice when traveling alone in Uganda
What you need to know
1.Manage your expectations. You won't be able to see the entire country. Get your head around that, set your priorities and decide where you want to go.
my rule of thumb is an average of three nights per destination. Is enough. You can have a shorter stay to some places but balance it out by staying longer in the game parks such that you get more time with the wild.
2.Ugandans are very friendly. Unless you're in a major city, expect to be greeted on the street with a "Good morning!" or at least a nod. And in major cities you can ask anyone for a little help. From Kampala City to small towns. I have found Ugandans to be very friendly and helpful – it's a point of national pride.
3.Buy health insurance before you leave.
4.Listen to National Public Radio. I love listening to Radio 1fm 90 when traveling with in Uganda. It leans a bit to the left on the local news, political spectrum so keep that in mind and local programming to help you get a feel for the politics and culture of the country.
5.Savor the local food.
In Uganda, the staple food is matoke (cooking bananas). Other food crops include cassava (manioc), sweet potatoes, white potatoes, yams, beans, peas, groundnuts           (peanuts), cabbage, onions, pumpkins, and tomatoes. Some fruits, such as oranges, pawpaws (papayas), lemons, and pineapples, are also grown.
Food is a very important part of travelling – be it across the world or the next town. We all love the comfort of knowing there will be familiar cuisines and the thrill of trying out new ones wherever we visit.
Uganda has adopted a range of continental cuisines especially Indian, Chinese and Italian with restaurants like Fang Fang, Mediterraneo, Cantine Divino, La Cabana, and The Great Indian Dhaba among others serving a variety of international and vegetarian dishes.
This same idea has been borrowed by lodges and hotels around Uganda's national parks. They serve all the different cuisines and if you were worried about this particular aspect of your travel, you shouldn't.
Here are the 10 Ugandan foods that you should be on the lookout for.
1. Luwombo
Royalty in a dish. One of Uganda's best dishes that is estimated to have originated from the Buganda Kingdom in the late 19th century by Kabaka Mwanga's personal chef. Kudos to that chef for creating a masterpiece that has brought joy to so many people and generations from everywhere.
Luwombo can be served with matoke, rice, cassava or chapati.
2. Katogo
Kagoto is one of those breakfast delicacies that will start your day off in great spirits. Directly translated, katogo means mixture.
It is basically assorted foods cooked together. Katogo can be served with fresh salad or avocado. The blend of these varying foods mixed together creates a beautifully tasty outcome that keeps you satisfied until the late afternoon.
3. Muchomo (Roasted meat)
Meat lovers would call this 'heaven'. Roasted meat has become a norm in Uganda and can be found in high-end restaurants as well as the roadsides in every town. Muchomo has a great delicious and crunchy taste and it is normally served with fresh salad or chips (fries).
4. Matoke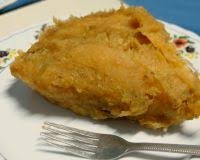 Matoke is traditionally enjoyed across Uganda and is a staple food to most of the Bantu tribes. In Western Uganda, you will see miles and miles of fields with this green plantain. It is from such farms that matooke is then harvested and sent to towns for urban dwellers.
Matoke can be served with any kind of sauce. Sometimes, matoke will be prepared with the peelings on (Empogola), this is normally served with pork, muchomo or any other grilled meats.
5. Kikalayi (Fried pork)
You have not tasted pork until you have tried 'kikalaya'. The title emanates from the sturdy and huge locally made frying pans used in the preparation.
Kikalayi is better when shared with friends, and that is why it is served dramatically on a big round tray (with optional red chilli). If you eat pork, kikalayi is something you will definitely enjoy.
6. Posho
Posho is probably one of Uganda's most common and cheapest dishes. It is made from maize flour which is mingled in boiling hot water until it becomes hard.
You can eat posho with every sauce, but our ultimate recommendation would be with fresh beans.
6.    Rolex (Rolled Eggs)

Basically, a rolex is fried eggs wrapped [rolled] in a chapati.
A rolex a delicacy that can be eaten at any time of the day. The rolex is deliciously unique that almost every Ugandan has their own favourite 'rolex guy' – and that comes with some sort of loyalty.
A rolex can be found on almost every roadside in the small towns across the country as cheap as 1500/= Ugandan shillings (0.4 USD). Yes, only in Uganda can you find a cheap rolex.
8. Chapati
Chapati is a complimentary dish, especially in restaurants. This is normally cut in triangle shapes and served as a complimentary item with your dish.
A chapati can also be eaten as a separate item from the main meal, as an accompaniment for your breakfast or evening tea.
9. Roasted Maize
A snack for any time of day. Fresh maize is slowly roasted over a medium fire until all sides turn to a brownish colour.
Since fresh maize is used, roasted maize is seasonal and you might not be able to find it at some times of the year.
10. Groundnut sauce (Binyebwa)
No, this not like peanut butter in any way. Made from the red skin ground nuts that have been ground to form some flour texture.
As mentioned above, the g-nut sauce can be served with very many dishes.
7'Portions are large.
Unless you're in a fine dining restaurant, you can expect the portions to be large. Don't hesitate to ask for a doggy bag
The weather varies.
In general, the south of Uganda shares the same tropical climate as Kampala. The city has a slightly milder climate due to its location near Lake Victoria. The parks in the south tend to be a bit warmer during the day and cooler at night. The areas at high altitude, including the gorilla parks, get considerably colder. Murchison Falls and Kidepo Valley in the north are warmer with daytime temperatures averaging 32°C/90°F.
Avoid the busiest travel time.
Best Time June to August and December to February (All parks)
High Season June to September (It's rarely crowded, but you'll need to book your gorilla permits long in advance)
Low Season March, April, May, October, November (Some lodges and camps in high rainfall areas close down; roads and forest trails can be in poor condition)
Best Weather June-July and January-February (Little rainfall)
Worst Weather March, April and May (Peak of Wet season)
Tipping is expected.Tipping is expected in Uganda. The minimum wage for employees who receive tips is very low so be generous. In restaurants tips typically range from 1% to 5% depending upon the level of service. The same goes for taxis, tour guides, and hairdressers. If a person helps you with your bags it should be $1 per bag or a $3 minimum. Leave a minimum of $3 on your bed for the maid service – $5 is much better.