Where are Gorillas found?
 Mountain Gorillas are the rare endangered species found in three major African national parks namely; Bwindi and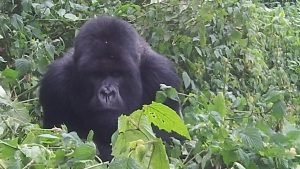 Mgahinga, Volcanoes and Virunga national parks in Uganda, Rwanda and DR Congo respectively. Gorilla trekking
Bwindi impenetrable national park This is one of the best gorilla trekking destinations found in the south western Uganda in Kanungu district. The has park over 19 habituated gorilla families for trekking found in four sectors of the park namely; Buhoma in the north, Ruhija in the east, Rushaga in the south and Nkuringo sector in the south.
Mgahinga national park: The park is situated in south western Uganda in Kisoro district and it haboors two habituated gorilla families Nyakagezi and Hirwa family.
Volcanoes national park: This is also one of the best gorilla trekking destinations in Africa found in the north western Rwanda in Musanze village. The park is home for over 14 habituated gorilla families for daily trekking in the tropical forest.
Virunga national park: Virunga national park is located north eastern park of DR Congo within the Albertine rift valley arm of east Africa.The park is ooccupied by about 8 habituated gorilla families available for trekking on a daily basis.
Kahuzi Biega : This is another gorilla trekking destination located in the eastern part of the DR Congo  and habors mainly low land gorillas which are different from mountain gorillas. The low land gorillas are larger in size compared to mountain gorillas. The park habors about 5 habituated gorilla families available for trekking.
Gorilla trekking is defined as a hike to the tropical forests of Africa to see the mountain gorillas in their natural habitat and once found spend 1 hour with them while learning about their behavior, habits and lifestyles while taking photos for lifetime experience.
What is the recommended group of people to trek a gorilla family ?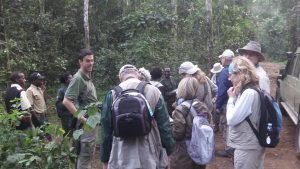 Gorilla trekking in all gorilla destinations in Africa allows a maximum group of only 8 people to trek a habituated gorilla family at a time. This is mainly to give visitors an opportunity to take a number of photos, control the spread of diseases and behaviour disturbance of the gorillas.
How much is a gorilla trekking permit ?
A gorilla permit is a document or card issued to any visitors aged fifteen years and above to trek any habituated gorilla family in any gorilla trekking destination. A single gorilla family in Uganda costs $700 for a foreign non- resident and $600 for a foreign resident.
A gorilla permit in Rwanda is $1500 for all nationalities and Democratic Republic of Congo a gorilla permit is $400 for foreign residents and with a $200 discounted gorilla permit in the low season
Where do you acquire a gorilla permit?
A gorilla permit can be acquired from the tourism bodies in the different gorilla trekking destinations mainly the Uganda wildlife Authority in Uganda, Rwanda development board in Rwanda and the Virunga foundation in Democratic Republic of Congo. However, a gorilla permit can also be booked via a trusted tour operator such as Mwanzo tours Uganda. While booking through a trusted tour operator like Mwanzo tours Uganda, you will contact us with the date , month, year and destination where you want trek the gorillas from, we will check for the permit availability and once the permits are available, you will be asked to make a deposit on the permit and after its made, you will be asked to send a copy of your passport to help the registration of the permit. As a company, we will acquire the permit and send you a scanned copy for confirmation.
Is it safe to track gorillas ?
One of the safest places to be in Uganda is Gorilla Trek in Bwindi Impenetrable Park or Mgahinga Gorilla Park. The Rangers in Bwindi Impenetrable Forest Park and Mgahinga Gorilla National Park in Uganda are highly motivated, adequately equipped, and trained to Keep Gorilla Trekking safe and secure.
What to wear when going to tack gorillas?
Due to unpredictable weather changes in the gorilla trekking destinations, tourists/ visitors are advised to carry or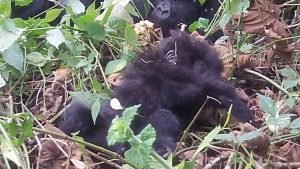 pack gorilla trekking equipment such as long sleeved shirts and trousers, rain jackets, garden gloves, hiking boots, insect repellents, warm socks, warm sweater, energy snacks, cameras, extra batteries, back pack, walking sticks among others.
What are the dos and don'ts during the gorilla trekk?
While in the jungle for gorilla trekking, don't leave rubbish in the wild during trekking
Don't draw very close to gorillas for they can be aggressive
Stay in tight close group during the trek to avoid getting lost
Visitors are allowed to spend one hour in the presence of gorillas in their natural habitats
Gorilla trekking allows a maximum of 8 people to trek a habituated gorilla family
Don't use flash light cameras when taking photos
Don't eat, smoke or drink in the presence of the gorillas
In case a gorilla charges, don't look directly into its eyes for you increase the risk of attack
Gorilla trekking is only allowed person aged fifteen years and above
Always keep your voices down while in the forest and in the presence of the gorillas
Not forgetting to follow instructions from the park ranger guide while in the jungle.
Can a disabled person track gorillas?
We as Mwanzo tours Uganda; we strongly recommend gorilla trekking for the disabled people mainly in the dry season. In conclusion, people with disabilities can trek to see mountain gorillas with no difficulty. Contact Mwanzo tours Uganda for advice and tips and be part of this memorable experience.
Whats the minimum age for gorilla trekking?
The minimum age for gorilla trekking in Bwindi Impenetrable National Park and Volcanoes National Park in Uganda and Rwanda respectively is 15 years and above. This is seriously enforced in both Uganda and Rwanda. There however some instances where a child below 15 years may trek gorillas.
What else can one do apart from gorilla trekking in Bwindi NP?
 Uganda's Bwindi impenetrable national offers interesting activities that you can engage in apart from gorilla trekking such as golden monkey trekking, nature walk, birding, Batwa trail experience, wildlife viewing, game drives, boat cruise, mountain climbing among others.
Where can one stay in Bwindi ?
Bwindi national park isn't only a wonder in wildlife experience and nature but also a home away from home in terms of relaxation for visitors. It has a got a wide range of accommodation in all categories such as luxury, midrange, budget, tree house to organized grounds for camping among others both within and outside the park.
These facilities are in kinds of lodges, hotels, inns and motels which offer quality services at all times for example Buhoma lodge which is a top quality and intimate property estimated within the park.