Where should I stay for gorilla trekking in Uganda?
Each sector of Bwindi Impenetrable Forest National Park has got its unique accommodation facility in terms of lodges,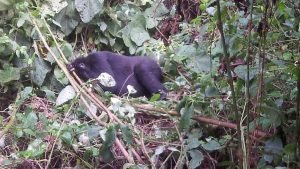 camps, and hotels where you can stay as you do a nature walk activity in Bwindi Impenetrable Forest National Park. The Four sectors of Bwindi Impenetrable Forest National Park include Buhoma located in the Northern sector of the Bwindi Impenetrable Forest National Park, Nkuringo sector in the southern part of Bwindi, Ruhija located in the Eastern part of Bwindi Impenetrable Forest National park and Rushaga sector in the southern part of the Park. We make appropriate accommodation choices for our clients in sectors where they are going to do nature walks or gorilla trekking. It is our responsibility that we check for you the availability accommodation facility provided you have already booked a permit to the park. It is good to book the accommodation facility early to avoid inconveniences. Gorilla trekking Uganda
However, there are several accommodation facilities within Bwindi, choosing the right one and in the right location is very vital. If one is tracking gorillas in Ruhija sector, they need to book a lodge in Buhoma which is near the starting point for the activity. Booking a lodge or hotel too far away from the briefing point may make it difficult to arrive on time. It is possible to book lodges in Kabale or Lake Bunyonyi but they need to wake up and start the journey to the forest earlier than usual to avoid missing out on briefings or activity itself.
Some of the accommodation facilities in Bwindi Impenetrable national park that you can relax and at home include;
The Gorilla Resort: This luxury Resort is found near the park gate at Buhoma sector. The hotel offers great views of Bwindi Impenetrable forest and the surrounding areas. The hotel has tents and cottages with rooms that are furnished with high quality furniture. There is a restaurant, a bar and a lounge area where visitors can relax and mingle. A campfire is set in the evenings to provide warmth to clients. Gorilla Resort helps support nearby communities.
Ruhija Gorilla Lodge: This is a luxury lodge that is built at the center of Bwindi forest. The location offers a serene and quiet environment with wonderful views of the thick forest, beautiful sounds of the birds and other jungle creatures. All the rooms are self-contained with flush toilets, showers, cold/hot water, high quality local furniture and local art. The rooms are kept immaculately clean by a dedicated team of staff. The beds are comfortable while showers have both cold and hot water. The lodge also has a bar, a dinning and library with books about Africa. The lodge gives you that feeling of being close to nature in a true wilderness.
Gorilla Forest Camp:This luxury camp is owned by sanctuary lodges and perfect for those who have come for gorilla trekking. Because of its location, some of the gorilla groups and smaller monkeys visit the camp frequently. The camp has 8 tents that are raised on platforms offering panoramic views of the forest. The tents are self-contained with bathtubs, flush toilets and a wooden deck. There is even a bar, restaurant and swimming pool. Services are excellent here especially in regards to the food. The camp includes community walks and laundry services for those who have booked with them. Sanctuary Gorilla Forest Camp supports local communities including the community hospital in Bwindi.
Buhoma Lodge: This is one of the oldest lodges in Bwindi. The lodge is built next to the park gate and close to the point where gorilla tracking starts. Guests have panoramic view of the great forest from a raised lounge. Buhoma Lodge offers 10 self-contained spacious cottages each with a balcony and free Wi-Fi. The rooms also have showers, comfortable bed and bathrooms that are kept immaculately clean.  Couples on a honeymoon can choose to stay in the honeymoon cottage with its special bathtub. The lodge serves local dishes like matooke and groundnut sauce in addition to international cuisines.  The hotel has a bar and dining area but meals can also be served in the rooms on request. In the evening a fireplace is set up to give extra warmth during the cold evenings in the forest.
Chameleon Hill Lodge: Chameleon hill is built on the shores of Lake Mutanda, between Mahinga Gorilla Park and Bwindi. It is a good choice for those who have come to do gorilla trekking in Bwindi and tracking golden monkeys in Mgahinga. The lodge has 10 cottages, a beautiful garden and wonderful views of the forests. The self-contained rooms are furnished with bedside lighting, a safe, a wardrobe, flush toilet, cold and warm water. There are five single and five double cottages. A bed can be added to cater for a child. The lodge also has a dining section, a bar and a lounge. The lounge has stylish furniture, books and a fireplace to keep guests warm in the evenings.  Wi-Fi is available in every part of the lodge and it's free of charge. Because of its location near the Lake Mutanda, the lodge organizes canoeing and motorboat tours to the beautiful lake and the skeleton island. Guest can also choose to take a bike and ride to the beautiful lake or nearby community.
Clouds Mountain Gorilla Lodge: Another luxury lodge built in the Nkuringo sector of Bwindi with breathtaking view of the Virunga Mountains and a Rift Valley. Staying in this lodge allows visitors easily walk to the starting point for gorilla trekking. The lodge was built under collaboration between the local community, the Uganda Wildlife Authority, USAID and AWF but operated by Wild Places. Clouds lodge has 8 self-contained rooms that are made of stone walls and grass-thatched roof. The rooms are both double and twin shared with walls that are decorated with beautiful art pieces from Ugandan artists. The lodge has a bar, a fireplace, a library, a souvenir shop, a beautiful garden and parking space. Multiple fireplaces are set up to warm guests during the cold nights in the forest. Clouds Mountain lodge arranges nature walks, bird watching, community visits (the batwa) and picnics. One disadvantage of the lodge is that because it is built uphill hence very tiring to walk to it on foot particularly if one has spent the whole day on an activity like gorilla trekking.
Engagi Lodge: This mid-range lodge is found between river Munyaga and the park offices in Buhoma area. Engagi Lodge is built with Eucalyptus trees, grass (roof) and timber. All the 8 rooms are self-contained with a table, writing desk and flush toilet, shower.  The cottages have single, twin and double beds with bathrooms, cold/hot water, flush toilets and free Wi-Fi. There is also a spacious waiting area, eating place, bar and solar panels. The lodge organizes nature walks to spot the forest birds, vegetation and primates.
Volcanoes Bwindi Camp: Volcanoes Bwindi camp is a luxury lodge that is also built facing the forest while offering services of high quality. Owned by Volcanoes Safaris, the camp has 8 cottages, each named after a gorilla. The rooms are self-contained with flush toilet, hot and cold showers. The cottages are decorated with local furniture and art to give an African touch.The lodge also has a bar, a dining, souvenir shop, massage room, free Wi-Fi and lounge area where visitors can relax and wait for the days programs. The lounge has comfortable sitting tables and a fireplace is stationed strategically to keep guest warm at night as they share their gorilla trekking experience. Apart from gorilla trekking, the lodge organizes visits to the waterfalls, tours to the tea farms and off course the Batwa visit. Power is supplied using solar. The lodge is near Bwindi Bar which is also run by Volcanoes Safaris. While at the lodge you should visit this bar as it has a good collection of drinks and food.  The gorillas come to this lodge frequently offering a chance to see them from the comfort of your room on a lucky day.
Lake Kitandara Tented Camp: Lake Kitandara Tented camp is a mid-range facility found at the edge of the park with beautiful gardens and views of the great landscape. The camp was built in 1994 has a lounge area where visitors can relax, meet and exchange information about their travels.  The camp has 20 self-contained tents named after Uganda's birds. The meals prepared in this camp are tasty and contain both local and international dishes. Meals can be packed for those going out for gorilla trekking and other park activities. The mountain gorillas sometimes visit this camp offering guest opportunities to talk photos of the primates as they feed and play around.  Late in the evening, a campfire is set up for guests to relax, dine, share experiences and mingle.
Buhoma Community Rest Camp: This budget camp was established in 1993 and is found outside the gate of the park close to the village of Buhoma. Like the name suggests, the rooms are built in traditional African style with local materials and grass thatched roofs. The lodge has 7 cottages, a restaurant, massage area and a bar. The self-contained rooms each have free Wi-Fi, comfortable beds, mosquito nets, a safe, showers, bathtubs and a verandah. While at the lounge area guest can read books, play games or rest by the fireplace. The Bandas are run by the nearby community and can house up to six people. The camp has a restaurant where guests can order for Ugandan and international dishes. Other services include a gift shop, massage, charging systems, laundry services and parking space. The lodge organizes community visits, forest walks, birding and butterfly tours.
Mahogany springs: This lodge is set in a private and beautiful location outside the park with spectacular views of the forest and the Munyaga River Valley. The lodge has eight cottages with single, double and even triple rooms. The rooms are self-contained with showers, hair dryers, charging stations, safes, flush toilet, chairs, tables and high quality mosquito nets. Families and honeymooners have special rooms built for them. The lodge also provides a fire place, a souvenir shop, free Wi-Fi, a restaurant, bar and verandahs to view nearby regions and valleys. Guest who book in large groups are offered discounts. Mahogany Springs organizes birding tours, walks to the river Munyanga, the tea plantations and visits to the local population.
Nkuringo Bwindi Gorilla Lodge: Nkuringo lodge is one of the most popular mid-range lodges in Bwindi. It won the World Travel Award of 2017 as Uganda's leading safari lodge. The lodge is built on the Nteko ridge with views of the Virunga ranges of mountains, river Kashasha and the forest. The lodge has beautiful gardens for relaxation and is close to the starting point for tracking the Nkuringo Gorilla group. The lodge has twelve self-contained rooms and facilities that are Eco-friendly. All rooms are built with modern looking but local material and private verandas. The hotel is popular for its good customer care and tasty food. Nkuringo Bwindi Lodge organizes canoeing at the beautiful Lake Mutanda, nature walks, bird watching and visits to the Batwa people.
Sanctuary Gorilla Forest Camp: This is a luxury camp owned by Sanctuary Retreats and is located near Kihihi airstrip. The camp has 8 rooms that are made of local timer, stones with a grass thatched roof. Sanctuary Gorilla Forest Camp has free Wi-Fi, a bar, a restaurant, a souvenir shop and lounge were clients meet to discuss their experiences in Uganda.  Each room has two large beds, a table, showers and bathtubs. One advantage of booking with this camp is the opportunity to see one of the gorilla families visiting occasionally.  The camp organizes birding tours using experienced local birding guides. Some of the Batwa people are invited to perform cultural dances in the evenings.
Mutanda Lake Resort: Mutanda Lake resort is built strategically in an area between Mgahinga Gorilla National Park and Bwindi with amazing views of the three volcanoes in Mgahinga and the beautiful lake. The Resort has 13 cottages with triple, twin and single self-contained rooms. All rooms have a table, mosquito nets and bedside lights.  The rooms are decorated with local artifacts like bowls and sculptures portraying Uganda and her animals. Mutanda Lake Resort also has a bar, a restaurant and a viewing platform. Those who have come to do both golden monkey and gorillas tracking should consider booking with this resort. The resort also organizes several activities including boat trips to Lake Mutanda, cultural tours and hiking volcanoes (Muhavura and Sabinyo) in Mgahinga Gorilla National Park.
Bwindi Jungle View Lodge: This lodge is located at the shores of Lake Muhele outside Bwindi forest and close to Mgahinga National Park. The hotel cottages are made of local material with grass thatched roofs. The rooms are self-contained with bathrooms, . Bwindi Jungle view lodge serves both local and international dishes and caters for vegetarians.  The lodge has good security,  room service,  laundry services, a fireplace and a large parking area.
Bakiga Lodge: Built on top of a valley with wonderful views of Bwindi Impenetrable forest and local farms, Bakiga lodge offers luxury services with four self-contained family cottages and tents that with bathrooms and free Wi-Fi. Bakiga lodge has friendly but very professional staffs that will ensure that your stay is as comfortable and memorable as possible. The lodge claims to be non-profit because it is part of a Non-Governmental Organization called the Bakiga Community Project registered in the United Kingdom. Gorilla trekking Uganda
Silverback Lodge Marasa: Silverback Lodge Marasa is located next to Bwindi Impenetrable National Park at the buhoma sector. Silverback Lodge is owned by Marasa Africa, a company owning other lodges in the Eastern part of Africa. The lodge has 12 rooms, each with a veranda that is suitable for single people, couples, groups and even those on a honeymoon. The hotel rooms are complimented with beautiful African art pieces and comfortable chairs. All rooms are self-contained with shows, flush toilets and washbasins. Silverback Lodge has a hotel, a bar, a restaurant, lounge area and Spa. The hotel organizes nature walks, village walks, mountain biking and birding among other activities.Gorilla trekking Uganda
Ichumbi Gorilla lodge: Ichumbi Gorilla Lodge is located in Rushage sector close to the main park gate. The lode has nine self-contained cottages with a choice of a single, twin or double room. Each cottage has a veranda with beautiful views of the forest. Ichumbi gorilla lodge is ideal for those who have come for birding, gorilla tracking, visiting nearby communities, spotting butterflies and nature walks. Gorilla trekking Uganda
Broadbill Forest Camp: Broadbill is built in the Ruhija sector of the park which is home to three habituated gorilla groups. Broadbill Forest Camp is a budget lodge but with good quality services. The lodge offers tents that are set up on raised platforms to allow guest marvel at the serene forest. The four tents are self-contained and the beds are arranged as single, double or single. The camp has a bar and restaurant and a fireplace to warm the visitors during the cold evenings in the forest. Gorilla trekking Uganda
Gorilla Mist Camp: This camp is found in Ruhija sector outside the park. The camp offers mid-range accommodation facilities and is perfect for guests who have come to do gorilla trekking and need a place close to the tracking point. The lodge has Eco-friendly cottages with nice views of the forest. The rooms are self-contained with bathrooms, hot and cold water. The beds are large while the sheets give enough warmth to contain the cold environment at night. Gorilla Mist Camp has a bar, a restaurant and lounge that guests can use for relaxation. Gorilla trekking Uganda
The above and so many others are some of the accommodation facilities travellers to Bwindi impenetrable national can stay in and feel at home while having the best experience in the park. Gorilla trekking Uganda